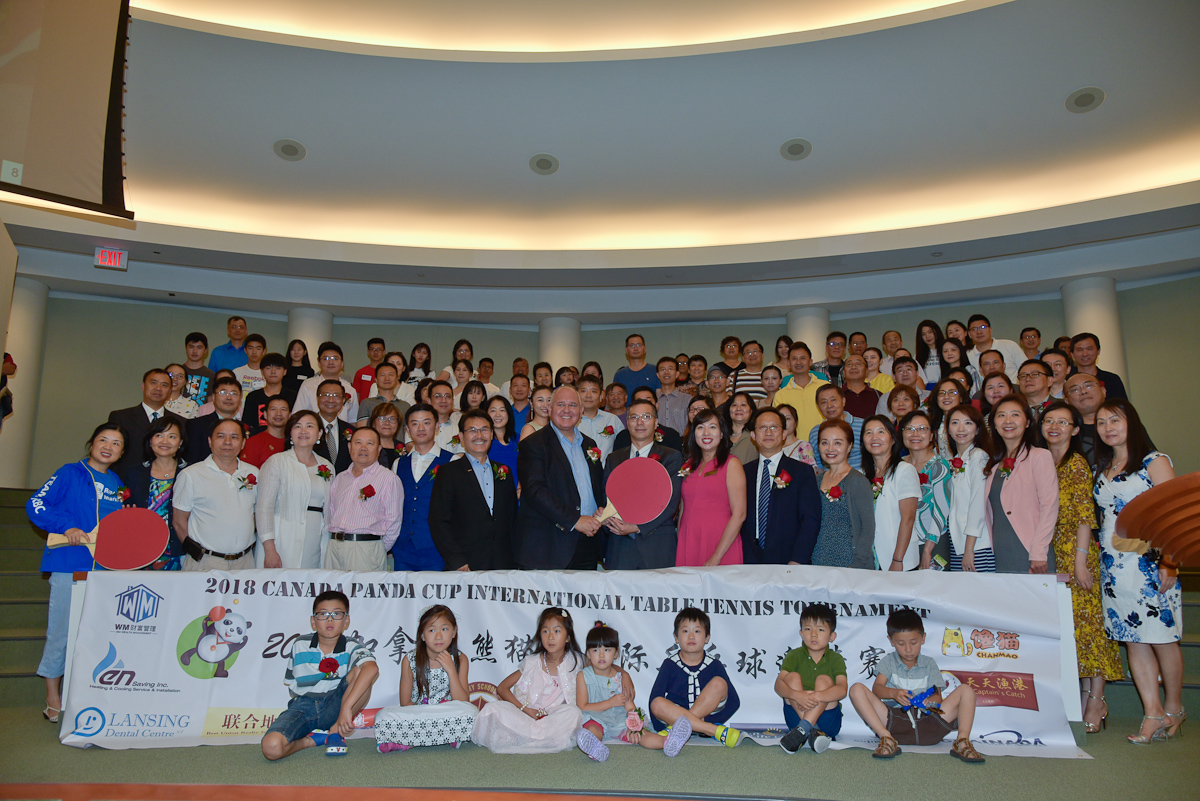 The 2018 Canada Panda Cup International Table Tennis Tournament Press Conference
The 2018 Canada Panda Cup International Table Tennis Tournament Press Conference was held on July 21, 2018 in the City Hall – Markham Ontario, Canada.
Representatives from China, the United States and Canada, and three levels of government officials from Canada and celebrities from all walks of life attended the press conference.
Mayor of Markham Frank Scarpitti
Member of Parliament Shuan Chen
Secretary Judy
City Councillor Alan Ho,
City Councillor Amanda Yeung Collucci
HF Mental Health Foundation, Chair Kam Lo.
spoke on behalf of governments and associations at all levels. They extended their warmest greetings to the distinguished members of the Canadian community and the organizers of the Maple Panda Board, fully affirming the popular table tennis in Canada In particular, the important position of the Toronto region has graciously praised the support and inclusiveness of Canadian multiculturalism for the diverse cultural and cultural activities of various ethnic groups, and praised the ownership of the various ethnic groups in helping each other to develop synergistically, while expressing the Canadian people's lives. A strong and vibrant country with pride.
The guests accepted Certificate of Appreciation from the Board.
former of the Chinese national team Player, Mr. Lei Zhang , CEO of the Maple Panda Board of Directors, at the press conference, enthusiastically praised the City of Markham has great contribute to table tennis and the Community In last ten years.
Markham has the top world class sports facilities which is Pan am center Markham. .and Many table tennis clubs like CCTTA. MYTTC. New start TT and more.
Also Markham hosted so many international table tennis event In the past few years.
2015 Pan am games.
2017 women's World Cup.
And Canada panda cup hosted in Markham every year.
People always say "Markham is table tennis Capital in Canada"
Chairman of the Board of Directors of Maple Panda , Li Dehua, CEO Zhang Lei, Honorary Chairman Huo Wenxiang, Secretary General Wang Xiaoyan, General Manager Hu Jiangfeng, Operations Director Zhang Jinshan, Foreign Minister Chen Rong, and Chief Financial Officer Wang Qingyan were awarded to three levels of government officials and guests. The plaque accepted the congratulatory letter from the guests.
On September 8-9, 2018, there will be 80 teams participating in the competition at the Jiahua Table Tennis Club in Markham. There are about 450 athletes. They are from China, the United States and Canada. Compared with the 34 teams (180 players) in 2016 and the 52 teams (260 people) in 2017, the scale has been significantly expanded, and the influence of the whole society has been continuously enhanced.
The major media at local and abroad rushed to the scene and reported on the unprecedented press conference.
Special thanks to the major sponsors:
1.Upper York second school (VP. Michael Mastragostino )
2.RBC BANK (VP. PATTY BLUE)
3.BEST UNION REALTY INC.( PRESIDENT EMILY WANG)
4.K&J'S AUTO LTD PRESIDENT LEO CHEN
5.CAPTAIN'S CATCH Daily Fishing Port (PRESIDENT LEO CHEN)
6.EN saving Inc PRESIDENT John Xu
7.WM WEALTH MANAGEMENT (branch manager) Irene Hanitijo
8.SUNLIFE Financial Canada President of iTop financial Bessie Tan
9.CHANMAO (PRESIDENT Qiu qiqi)
10.LANSING DENTAL CENTER Dr. DR.PEI WEI DONG 裴伟东
11.Print Tree MARKHAM (Julia zhou )
12.SINO-CAN SICHUAN BUSINESS COUNCIL(HONORARY PRESIDENT Mr.Xiong Shengcai
13. Chainada trade promotion Ltd. Director Mr. Chen Zhibin